Medical Aesthetics
…Because aging should be a beautiful experience…
Announcing Rejuvapen: the Islands' Latest Facial Rejuvenation Treatment  
The Rejuvapen Micro Fractional Collagen Stimulation System utilizes micro needles in a small cartridge to create invisible, vertical, micro perforations into the top layers of the skin. As a result the skin shifts its natural repair mechanism into high gear and starts producing collagen and elastin. This self-repairing [MM1] property of the skin is a 100% natural form of skin renewal. Skin becomes firmer and regains its elasticity, fine lines and wrinkles are visibly reduced, pores become firmer and less visible, circulation is stimulated and the overall condition of the skin improves.
Rejuvapen is safe for all skin types, has minimal downtime, and unlike most laser treatments can be used year-round on tan or darker skin types. As an added bonus, the treatment can also be used on other areas of the body, like the abdominal area, to reduce the appearance of stretch marks.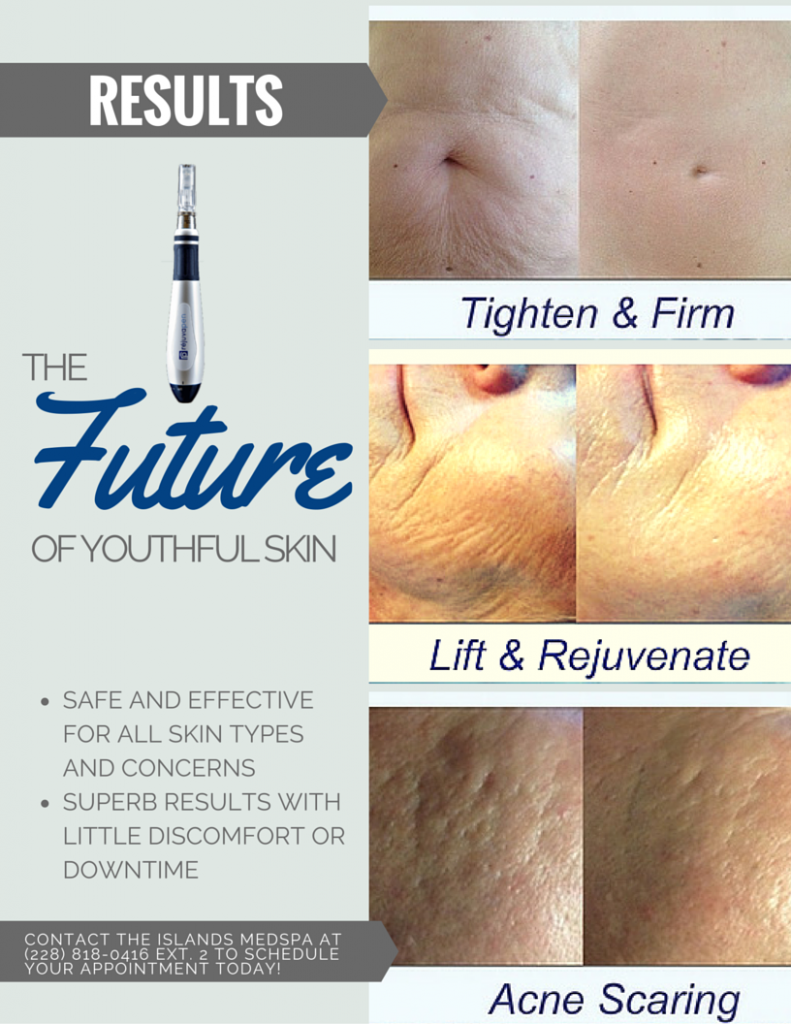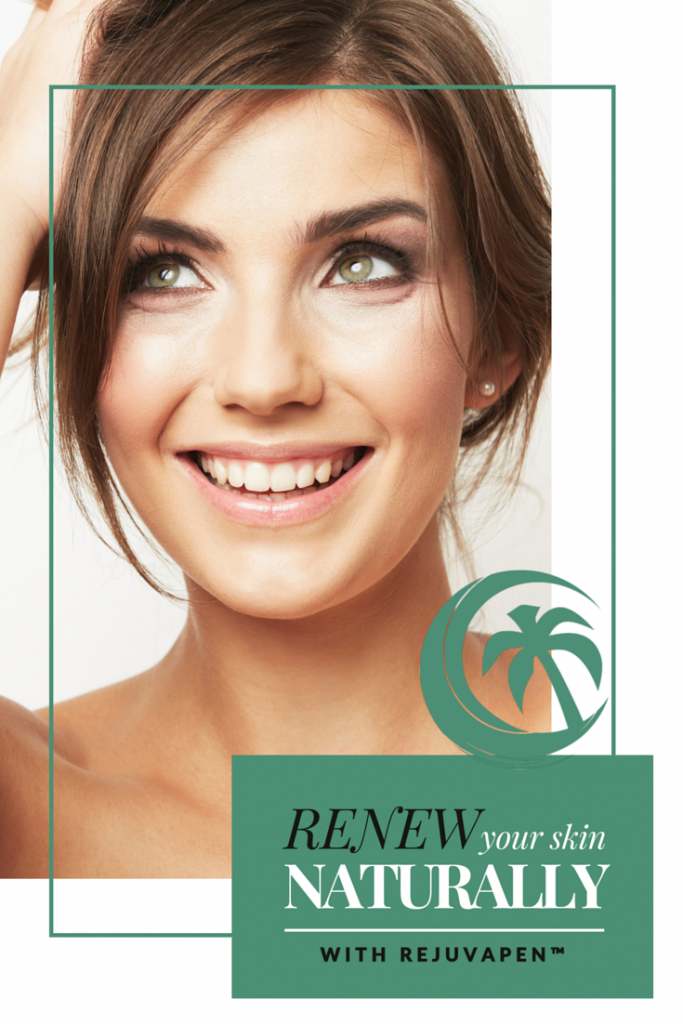 HydraFacial MD®
What is HydraFacial MD®?
HydraFacial MD® is a non-invasive, multistep treatment that combines the benefits of next-level hydradermabrasion, a chemical peel, automated painless extractions (no pinching!) and a special delivery of Antioxidants, Hyaluronic Acid and Peptides. It does all of this in one quick treatment that delivers real results without downtime or irritation.
Your skin is most beautiful when it's healthy. We believe that by focusing on nourishment, restoration, and damage prevention, outward radiance naturally follows. Skin health doesn't need to be complicated. At HydraFacial MD® we promise that our non-invasive treatment will not only improve the look of your skin, but also to restore it to its healthiest state.
Who It's For
Great for all skin types, the HydraFacial MD® Treatment is not only highly effective at improving overall skin health, but also excellent for correcting:
Fine Lines and Wrinkles
Elasticity & Firmness
Skin Tone Evenness & Vibrancy
Skin Texture
Hyperpigmentation/Photo Damage
Oily/Congested Skin
Enlarged Pores
Advanced Signs of Aging
Sclerotherapy
Stop Hiding…
If you suffer from problems related to varicose and spider veins you are not alone. At our Vein Center we offer total vein services to care for all of your needs with very little downtime and beautiful results.
Medical Microdermabrasion – "Exfoliate, Exfoliate, Exfoliate"
Poor health, diet, aging, stress, and the elements of nature can slow down the skin's cell turnover process. By speeding up the cellular turnover process, microderambrasion brings you closer to healthier, younger-looking skin. Your skin is gradually improved without the risks, side effects, and down time of more aggressive alternatives. Add in a relaxing facial and your day just became heavenly.

What can be treated
Sun Damage
Age Spots
Superficial Pigmentation
Fine Lines & Wrinkles
Enlarged Pores
Blackheads and Whiteheads
Acne Scars
Skin Medica Peels- "See a new you"
Skin Medica offers a comprehensive system of three peels, each designed to treat skin conditions from mild to severe, including photo damaged skin, fine lines and wrinkles, pigmentary abnormalities, acne scarring and acne.
Vitalize Peel – "Illuminate & Rejuvinate"
This peel brings the benefit of alpha-hydroxy and retinoic acid in a unique blend to create one of the strongest, but safest and gentlest peels. This skin renewal process has been clinically proven to help pigmentation problems and reduce active acne and mild scaring. There is significant exfoliating with the Vitalize Peel for about four days and immediate improvement in skin tone and texture. Your down time is minimal, but results are max.
VI Peels
Minimal downtime, highly effective chemical peel for acne, brown patches, melisma and photo damage. Using multiple acids at lower concentrations allows us to deliver deep peel results without the bad side effects of traditional deep peels. 
Latisse – "Not enough lashes? GROW them!"
Now you can grow longer, fuller, darker eyelashes! Lattisse – bimatoprost ophthalmic solution is the first and only prescription treatment approved by the FDA for inadequate or insufficient eyelashes, growing them longer, fuller and darker.
Botox – "Need some time off? How about a few YEARS?!"
Now you can smile, laugh and frown without worrying about the wrinkles left behind. This safe, effective treatment of Botulinum Toxin, Type A is now FDA approved to temporarily inactivate those little facial muscles that create our unwanted wrinkles. By smoothing out the appearances of these areas primarily located around the eyes, we are able to create a more youthful appearance. A consultation will help determine if this treatment is right for you.
Juvederm Ultra PLUS – "A Natural Beauty Lift"
This is a safe and natural cosmetic dermal filler that restores volume and fullness to your skin to correct moderate to severe facial wrinkles and folds, such as nasolabial folds. Juvederm maintains its shape using the body's own moisture. So perhaps it's not surprising that the most basic element of natural beauty, water, holds the key to the long lasting results you can expect.
IPL – "PhotoFacial"
Intense Pulsed Light technology is a treatment breakthrough that can correct a variety of skin conditions. It offers a safe non-invasive solution that can be tailored to your individual condition & skin type, providing superior cosmetic results and outstanding satisfaction through a new process called photo rejuvenation. 
The purpose of photo rejuvenation is to improve the appearance of the skin. It treats skin conditions such as facial skin imperfections, the signs of photo-aging, birthmarks, unsightly small veins, & other blemishes.
Treatment is generally administered in a series of 4 to 6 sessions that provide excellent long-term results. Each treatment takes about 20 minutes. You can return to work the same day and resume all your regular activities.
Permanent Laser Hair Reduction 
This is an office procedure that requires multiple visits to effectively and permanently reduce unwanted hair. The number of visits depends primarily on the contrast between your hair color and your background skin color as well as the specific area on the body that is being treated. Common treatment areas include the face, neck, armpits, torso, bikini region, thighs and legs.
Our laser technicians have been trained and certified in this field by Lumenis™ and have several years of experience in treating unwanted hair on any region of the body. They will be able to answer any questions about the treatments and what results you can expect during your consultation.